Lies, Damn'd Lies, Statistics, and…
29 November 2009
In my previous entry, I noted that, as the Gallup report of the President's approval rating approached 50% from above, there was an asymmetry in its perturbations, that it skated the 50% line, without blipping below it, for an extended interval. And I noted that, as the disapproval rating approached the approval rating from below, it tentatively seemed to be displaying a complementary asymmetry, plateauing when it might be expected to rise further.
Indeed, that reported plateau was stretched for a full week.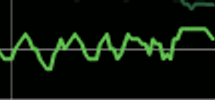 If you'll look at the previous reported figures for the disapproval rating, you'll see nothing like it.
Tags: Barack Obama, Gallup, Obama, polls